More performance, less investment.
Provide all-flash or hybrid storage at an exceptional value, and support up to 10,000 MS-Exchange mailboxes in just 2U of rack space.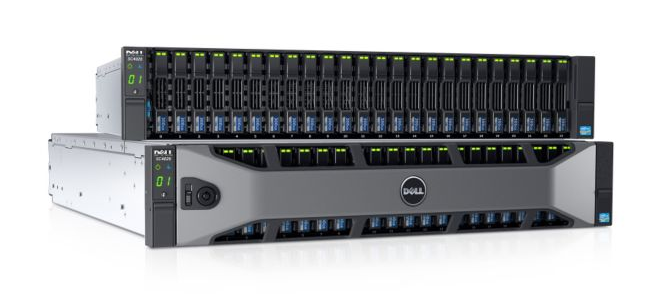 Product Configurations
Internal Storage
24 x 2.5" drive bays
Supported expansion enclosures
Dell SC200: 12 x 3.5" drive bays
Dell SC220: 24 x 2.5" drive bays
Maximum drive count
192 (24 internal, plus 168 external)
Total storage capacity
500TB
Supported drive types
HDD: 15K, 10K, 7.2K RPM; SDD: write-intensive SLC, read-intensive MLC (different drive types, transfer rates and rotational speeds can be mixed in the same system)
Controllers
2 controllers per SC4020 array
Processor
Intel® Xeon® Processor E3-1265L v2, 2.50GHz, 4 cores
Memory
32GB per SC4020 array (16GB per controller)
Network/server connectivity (front-end)
Fibre Channel model: 8 x 8Gb FC ports per SC4020 array (4 per controller); simultaneous multiprotocol support available with optional upgrade to firmware v6.6. Management/Replication ports may also provide two ports of front-end iSCSI network I/O per controller.
iSCSI model: 4 x 10Gb iSCSI ports per SC4020 array (2 per controller); additional iSCSI network connectivity available with optional upgrade to firmware v6.6. Management/Replication ports may also provide two more ports of front-end iSCSI per controller.
Internal drive connectivity (back-end)
4 x 6Gb SAS ports per SC4020 array (2 per controller)
NAS deployment connectivity (optional)
Supports file-based storage via FS8600 NAS appliance
---
Technical Highlights
Product OS
Storage Center 6.5
Server OS
Microsoft® Windows Server®, Oracle® Solaris, HP®-UX, Oracle Linux, IBM® AIX®, Novell® NetWare, SLES, Apple, HPTru64, VMware®, Citrix® XenServer®, RedHat®
RAID
Supports RAID 0, 1, 5, 6, RAID 10 and RAID 10 DM (dual mirror). Any combination of RAID levels can exist on a single Storage Center. Multiple RAID levels can exist on the same storage tier within an array.
---
Management
Enterprise Manager (included, server-installable), Storage Center Manager (included, on-board browser-based), Enterprise Manager Chargeback, Replay Manager, vCenter Operations Manager plug-in, command-line interface
---
Power
Power/wattage:
2 hot-swappable 580W power supplies; 580W maximum power
Heat dissipation:
1,978 BTU/hr maximum
Voltage:
100-240 VAC
Frequency:
50/60 Hz
Amperage:
7.6-3.0 A
---
Chassis
Rack size:
2U
Height:
8.79 cm (3.46 inches)
Width:
48.2 cm (18.98 inches)
Depth:
54.68 cm (21.53 inches)
Weight at maximum configuration:
24 kg (53 lb)
Weight empty:
7 kg (15.4 lb)
---
Environmental Operating Conditions
Operating temperature:
50 - 95°F (10 - 35°C)
Non-operating temperature:
-40 - 149°F (-40 - 65°C)
Operating humidity ranges (non-condensing):
10% to 80% with 29°C (84.2°F) maximum dew point
Non-operating humidity (non-condensing):
5% to 95% with 33°C (91°F) maximum dew point
Inlet type:
NEMA 5-15/CS22.2, n°42
High performance that fits your budget, including all-flash
To compete with big business, you need efficient, real-time data access to quickly turn customer interactions into transactions and information into insights. The Dell Storage SC4020 puts the high IOPs and low latency your applications demand within reach.

Consider these top features:
Auto-tuned for maximum performance and cost-savings based on real-time usage information
FLASH-optimized for affordable all-flash or hybrid SSD/HDD deployments
Fibre Channel or iSCSI SAN support included, with high-performance scale-out NAS option
Perpetual software licensing for low lifecycle costs
Award-winning Copilot Support
Enterprise storage features right from the start
Ideal for stand-alone SANs or departmental/branch office deployments, the SC4020 is based on our larger enterprise-class storage solution, SC8000. Designed to support distributed large-scale growth, the overall Dell Storage SC Series portfolio ensures that as your organization grows, so will your ability to store, manage and gain insights from your data.
Fully virtualized array eliminates need to pre-allocate RAID groups, increases overall flexibility
Automated tiering among all drive types, including HDDs and read- and write-intensive SSDs
Space-efficient snapshots, block-level compression, remote synchronous/asynchronous replication, Fast Track disk optimization
Comprehensive management tools, including full integration and replication with SC8000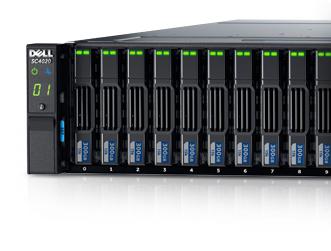 Industry-leading TCO saves more than data
Dual controllers, 24 internal drive slots and high performance Fibre Channel or iSCSI network ports come standard in a space-saving 2U chassis. This compact footprint helps to lower data center energy costs while the automated and intelligent data placement architecture reduces lifecycle hardware costs.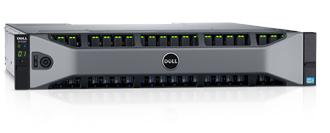 Buy fewer and less expensive disks
Expand easily to 192 drives using standard Dell Storage enclosures
Enables flash solutions for the price of hard drive solutions
Data Progression, Dynamic Capacity (thin provisioning), Enterprise Manager and Data Instant Replay (snapshots)
Award-winning Copilot Services
Combining centralized support, product education and sales resources, Dell Copilot Services includes 24x7 active system monitoring to help improve performance and stability.
* Based on Microsoft Exchange JetStress 2013 testing of 24 x 900GB 10K RPM drive SC4020 configuration in February 2014 in Dell Labs. Actual results will vary.
The SC4020 supports all-flash arrays (AFAs), hybrid arrays, or traditional spinning disk solutions. Flexible and scalable, SC4020 lets you start in one configuration, then evolve to another as your needs change.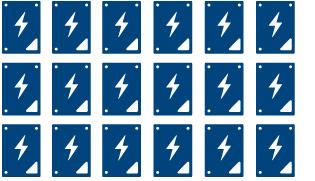 Entry level all-flash arrays
The entry-level SC4020 single-tier all-flash array (AFA) is one of the industry's most affordable all-flash solutions. Now it's possible to accelerate workloads today—well beyond the capabilities of spinning disk—and keep your options open to add a tier of higher performing write-intensive SSDs or high-capacity HDDs as your business grows.
Flash-Optimized All-Flash Arrays
Dell's exclusive Flash-Optimized multi-tier AFAs combine the best features of multiple types of enterprise-class SSDs for the ultimate in simultaneous performance and cost-savings.
Innovative Data Progression technology sends all incoming writes to WI (Write-Intensive) SSDs, to ensure the highest write speeds. Data is then migrated to RI (Read-Intensive) SSDs, offering equivalent read performance at a lower cost.This intelligent automation keeps your applications running smoothly using the least expensive mix of drives. In addition, because the WI "write layer" frees your RI drives from primary writes, they'll last much longer than drives in competing all-RI arrays.
Hybrid arrays
Both the single and multi-tier AFAs described above may be further expanded and cost-optimized by adding a tier of spinning disks either within the original SC4020 chassis or in one or more expansion enclosures.
SC Series hybrid arrays deliver the best of both worlds – performance plus cost savings. All writes go to Tier 1 SSDs, guaranteeing outstanding performance. Only cold data is moved to spinning disk, but since that can constitute a very large percentage of overall capacity (up to 80% of all data is written once and never accessed again), many customers will save money by diversifying their drives.
Traditional HDD arrays
The SC4020 can also be deployed as a traditional array with hard drives only. For those who don't need the performance of flash, data progression still provides best-in-class tiering to optimize performance and enhance your HDD solution. Features such as FastTrack disk optimization ensure you get the most out of your hard drive investment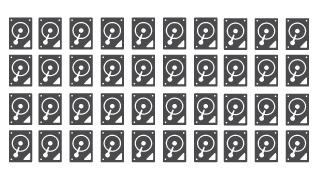 Legend
---

Write-Intensive SSD

Read-Intensive SSD

Hard Drive Disc HDD
SC4020 drive options
SC4020 supports a wide variety of 2.5" SSDs and HDDs, including:
WI (Write-Intensive) SSDs
RI (Read-Intensive) SSDs
HDDs
200GB
400GB
800GB
480GB
1.6TB
300GB SAS, 15K
600GB SAS, 10K
900GB SAS, 10K
1.2TB SAS, 10K
1TB SAS, 7.2K
Additional 3.5" drives are supported in optional expansion enclosures: 2TB 7.2K, 3TB 7.2K, 4TB 7.2K, 6TB 7.2K, 450GB 15K, 600GB 15K.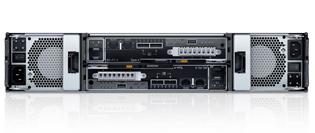 Other configuration options
SC4020 is available with either Fibre Channel or iSCSI networking ports. Native block SAN support is included, plus NAS support when deployed with the optional FS8600 NAS appliance. Additionally, replications and snapshots can be controlled and automated with the Enterprise Manager tool.