High-performance, efficient and scalable Dell Compellent SAN.
Enhance storage performance, efficiency and scalability with the next-generation Dell Compellent SC8000 Storage Center Controller.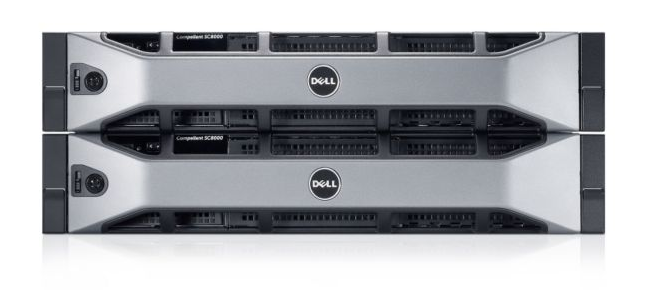 Scalability
Storage capacity: Up to 960 drives (3PB raw capacity) per dual-controller system; larger capacity available in clustered systems using Live Volume*
Memory: Up to 128GB total available cache per dual-controller system; larger cache capacity available in clustered systems using Live Volume*
2.5" drives: Up to 24 drives per SC220 expansion enclosure
3.5" drives: Up to 12 per SC200 expansion enclosure, 84 per SC280 expansion enclosure
---
Processor
Two 2.5GHz 6-core Intel™ processors per controller
---
Connectivity
Per dual-controller system; multiple systems may be clustered using Live Volume*
Front-End Connectivity
Fibre Channel (4Gb, 8Gb, 16Gb), iSCSI (1Gb, 10Gb), FCoE (10Gb)
Simultaneous interface support
Maximum Front-End Ports
16 (Fibre Channel), 10 (1Gb iSCSI), 10 (10Gb iSCSI), 10 (FCoE) per controller. NOTE: SC8000 controller can support up to 16 FC front-end ports with 4-port low-profile SAS back-end IO option.
Back-end Connectivity
SAS (6Gb & 3Gb), Fibre Channel (2Gb, 4Gb, 8Gb)
Maximum Back-End Ports
16 (Fibre Channel), 20 (SAS) per controller – NOTE: No SATA ports, FC and SATA enclosures are connected to FC8 IO card.
Fibre Channel and SATA expansion enclosures connect to SC8000 via Fibre Channel IO expansion card
---
Storage
Drive Interfaces
SAS and NL-SAS drives. Also backwards compatible with existing Compellent Fibre Channel and SATA drives.
Different drive types, transfer rates and rotational speeds can be mixed in same system
---
RAID
Supports RAID 0, 1, 5, 6, RAID 10, and RAID 10 DM (Dual Mirror) Any combination of RAID levels can exist on a single Storage Center
Multiple RAID levels can exist on the same storage tier within an array
---
Chassis
Storage Controller
Rack size: 2U
Height: 87.3 mm (3.44 inch)
Width: 482.4 mm (18.98 inch) with rack latches
444 mm (17.08 inch) without rack latches
Depth: 755.8 mm (29.75 inch) with bezel
Weight: 19.73 kg (43.5 lbs)
Rack Support
ReadyRails™ II static rails for tool-less mounting in 4-post racks with square or unthreaded round holes or tooled mounting in 4-post threaded-hole racks
---
Environmental Operating Conditions
SC8000 Controller:
Power: Dual, Redundant 750W 80 plus® Platinum certified power supplies
Maximum Power: 425W
Max Heat Dissipation: 1,450 BTU/hr
Operating Temperature: 50 - 95°F (10 - 35°C)
Non-Operating Temperature: -40 - 149°F (-40 - 65°C)
Operating Humidity Ranges (non-condensing): Operating, 20% to 80%
Non-Operating Humidity (non-condensing): 5% to 95%
Inlet Type: NEMA 5-15/CS22.2, n°42
---
Emissions/Safety
Controller
FCC Class A; EN55022 Class A; EN 61000-3-2/-3-3; CISPR 22 Class A; EN55024/CISPR 24; (EN 61000-4-2, EN 61000-4-3, EN 61000-4-4, EN 61000-4-5, EN 61000-4-6, EN 61000-4-8, EN 61000-4-11); EN60950/IEC 60950 Compliant UL Listed (USA), CUL Listed (Canada), TUV Certified (Germany), CE Marking (Europe)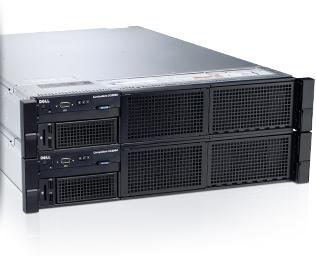 Heightened flexibility
Help extend the life of your storage investments with Compellent Storage Center solutions. Flexible, non-disruptive storage options including flash-optimized solutions that offer flash at the price of disk1, enable your data center to grow seamlessly without forklift upgrades.
Simultaneous iSCSI, Fibre Channel (FC) and Fibre Channel over Ethernet (FCoE) front-end interconnects
Controls SAS and FC drive enclosures, including those with write-intensive SLC and read-intensive MLC SSDs
Scales up to 960 SAS drives in multiple enclosures per dual-controller system and scales-out to many systems across numerous sites, monitored by a single console
Seamlessly integrates with the FS8600 NAS appliance for fully interoperable block and file storage solutions
Enhanced performance and density
Experience the combined benefits of Dell Compellent architecture and a resilient Dell hardware design that offers improved performance and increased memory over previous generation Dell Compellent controllers.
2U rack chassis with dual six-core, 2.5GHz (with Turbo) Intel® Xeon® E5-2640 CPUs
16GB2 to 64GB2 total available cache per controller, with a maximum 128GB2 per dual controller system (a dual controller configuration is required to support full high-availability and failover capabilities in production environments)
Six PCIe Gen3-enabled expansion slots to extend I/O capabilities for future growth
Integrated Dell Remote Access Controller (iDRAC7 Enterprise) to add hardware and environmental monitoring capabilities to the Storage Center solution
Storage Center Operating System 64-bit support for improved scalability and performance
Enhanced software protects and powers your data
Storage Center 6.5 ensures simplified network management, excellent security and higher availability. Recovery point objective (RPO) and recovery time objective (RTO) are less than five minutes, enhancing business continuity and lowering overall costs.
Data at rest encryption with self-encrypting drives (SEDs)
Synchronous and asynchronous live volume replication
Mulit-VLAN tagging
FIPS 140-2 certified
Manual recovery and failover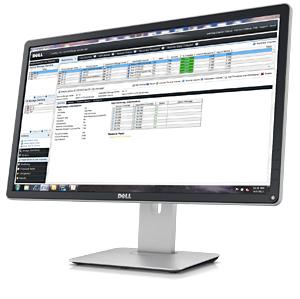 Straightforward software upgrades and perpetual software licensing enable consistent, seamless growth.
Allows the Dell Compellent Storage Center to reach performance levels over 300,000 IOPS3.
Achieve greater than 100,000 IOPS with sub-millisecond latency when running OLTP workloads4.
Dynamic Capacity allows thin provisioning of any size virtual volume without consuming physical capacity until data is written to disk.
Data Instant Replay ensures that once an initial snapshot of a volume is taken, only incremental changes in data need to be captured.
Data Progression writes active blocks of data to Tier 1 storage while automatically migrating inactive blocks of data to lower-tier storage with high protection.
Fast Track places data on the appropriate tracks within individual hard drives in the drive enclosures.
Enterprise Manager simplifies network storage management by providing a single, centralized console for administering multiple local and remote Storage Center SANs.
Remote Instant Replay provides continuous data protection by replicating only incremental changes in data following initial site synchronization. This method of Thin Replication helps keep hardware expenses in check.
Live Volume allows moving and sharing storage volumes between two separate systems without disruption.
Next-generation expansion
Increase your capacity and build a complete end-to-end Dell hardware solution with next-generation Storage Center SC200, SC220 and SC280 expansion enclosures as well as the SC220 Flash-optimized solutions.

SC200:
A 2U, 6Gb SAS enclosure that supports up to 12x 3.5" SSD and HDD drives. Each drive bay can be individually configured for speed and capacity. It also contains two fully redundant hot-swappable 700W power supplies and dual 6Gb SAS Enclosure Management Modules for redundancy.
SC220:
A 2U, 6Gb SAS enclosure that supports up to 24 x 2.5" HDDs or SSDs. This enclosure also supports all-flash and hybrid-flash options that offer up to approximately 2x the price advantage over competitive hybrid solutions and up to approximately 5x the price advantage over competitive all-flash solutions5. Each drive bay can be individually configured by speed and capacity. It also contains two fully redundant hot-swappable 700W power supplies and dual 6Gb SAS Enclosure Management Modules for redundancy. The Flash-optimized solution can tier across write-intensive single-level-cell (SLC) SSDs and lower-cost, high-capacity read-intensive multilevel-cell (MLC) SSDs in a single solution.
SC280:
A 5U dense enclosure that supports up to 84 x 3.5" 6TB or 4TB drives that is up to 2.8x denser as compared to 2U 3.5" disk drive enclosure solutions. It also contains two fully redundant hot-swappable 700W power supplies.
Automatic data tiering
Storage Center 6.4 Data Progression has been enhanced to support multiple tiers of SSDs, which ensures that all writes go into Tier 1, RAID 10, SLC SSDs for increased performance. Additionally, Data Progression moves read-only data to Tier 2, RAID 5, MLC SSDs to ensure cost-optimized read performance and free up Tier 1 for writes. This provides built-in, extremely granular intelligence that automatically tiers data and optimizes performance while still protecting your data. SC6.4 Data Progression dynamically moves data between SSD tiers within the flash-optimized SC220 solution and places inactive data on the high capacity HDD drives within the SC220, SC200 or the ultradense SC280 enclosures, all within a single array.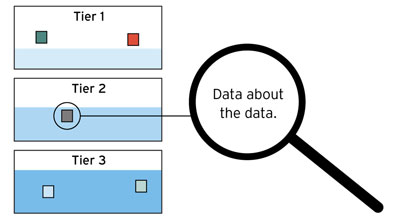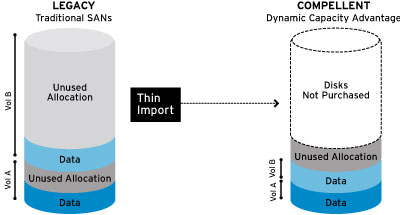 Dynamic Capacity: thin provisioning
Built into every Dell Compellent Storage Center system, thin provisioning delivers efficient storage utilization. Our advanced thin provisioning, called Dynamic Capacity, completely separates storage allocation from utilization, enabling users to allocate any size volume up front yet only consume physical capacity on write. You can even reclaim capacity that is no longer in use by applications, automatically reduce the space needed for virtual OS volumes and convert traditional volumes on existing storage to thin-provisioned capacity.
Data Progression: Automated tiered storage
Based on actual use and performance requirements, Dell Compellent Data Progression automatically classifies and migrates data to the optimum tier and RAID level. All new data is written to Tier 1, RAID 10, for the highest write performance, yet snapshots automatically move to the lowest tier and most cost-effective RAID level within 24 hours. The most active blocks of data remain on high-performance SSD, Fiber Channel or SAS drives, while inactive blocks dynamically migrate to lower-cost, high-capacity NL-SAS drives. With Data Progression, organizations can dramatically reduce ongoing costs of storage.
Data Instant Replay: Space-efficient snapshots
Dell Compellent Data Instant Replay enables organizations to take thousands of continuous snapshots to speed recovery to any point in time. Fluid Data technology doesn't require full-volume clones — not even to provide a base snapshot. Instead, after first write an initial snapshot is taken of that write data only. Subsequently, only incremental changes in data are captured and the system uses real-time intelligence to create virtual pointers between all associated blocks. Stored on lower-cost drives to free up Tier 1 capacity, in most cases these readable/writable snapshots can be used to recover any size volume to any server in less than 10 seconds.
Remote Instant Replay: Thin replication
Dell Compellent thin replication technology, called Remote Instant Replay, leverages space-efficient snapshots between local and remote sites to deliver a cost-effective disaster recovery solution. After initial site synchronization, only incremental changes in data need to be replicated regularly, cutting hardware, bandwidth and administration costs. You can choose between replicating data over Fiber Channel or native IP connections, depending on your unique business requirements.
Live Volume: Dynamic business continuity
Dell Compellent Live Volume enables organizations to move volumes on demand between Storage Center arrays within a local storage grid. All migration occurs transparently while applications remain online. And the functionality is fully integrated into the virtualized storage platform, eliminating the need for additional hardware or server-side agents. Live Volume supports any virtualized server environment. In fact, migrated volumes automatically map to associated hosts regardless of physical location to Dell complement leading virtual machine movement engines.
Storage Center GUI: Intuitive management
Dell Compellent Storage Center features a unified, point-and-click interface that cuts administration time and eliminates the need for specialized skills. The intuitive interface automates repetitive, time-consuming tasks so data center staff can focus on other important projects. Complex allocation, configuration and administration functions are easily accomplished with wizards to guide the process. And comprehensive Support Assist capabilities deliver remote, diagnostic and monitoring tools coupled with automated alert and notification services.
Enterprise Manager: Enterprise storage management
Enterprise Manager simplifies storage resource management by providing comprehensive monitoring and management of all local and remote Dell Compellent Storage Center systems. You can gain instant visibility and control of a multi-terabyte, multilocation environment, streamlining administration and reducing operating costs. Configure and verify remote replication processes, monitor storage capacity and disk utilization in real time, and generate comprehensive storage usage and performance reports — all from a single pane of glass.
Data Center Automation: Technology partner integration
With aggressive platform integration, ongoing interoperability testing and collaborative design efforts, Dell Compellent delivers best-of-breed data center automation for industry-leading applications. Dell Compellent has a vast array of integration points with VMware® to manage storage and virtual machines together including a vSphere™ plug-in, a vCenter™ SRM adapter and VAAI plug-in support.The Storage Center Command Set for Windows PowerShell streamlines system management with an intuitive scripting interface. Replay Manager provides consistent, automated backup and restore for Microsoft® Exchange, SQL Server® and Hyper-V™ data. These certified and validated platforms ensure seamless interoperability and support.
Dell Compellent Services
Award-winning service with over 96 percent customer satisfaction
Dell Compellent™ Copilot Support delivers proactive, comprehensive 24x7 technical support that covers the storage center infrastructure. Operating out of a state-of-the-art U.S. call center, Dell Compellent Copilot engineers continuously monitor system performance and alert customers of potential issues. Dell Compellent Copilot Support provides:
24x7 access to highly trained Dell Compellent Copilot Support engineers.
Priority or next business day on-site response by Dell Compellent-certified technicians.
Priority, next business day or UPS ground delivery of replacement parts.
Storage system monitoring via integrated SupportAssist technology.
Dell Compellent Copilot Support enables you to choose the right level of phone support, on-site support and parts delivery for your unique business needs. Every call is answered by a highly trained copilot engineer, who takes ownership of the entire storage infrastructure, including third-party technology partner products.
Speed of response
Protection
Premium proactive

Call center: A phone call away — Perfect for enterprise storage environments where immediate phone assistance by a highly trained support engineer is a must to speed issue resolution and avoid unplanned downtime.

On-site: Priority or next business day — Choose from priority (4/8/24-hour, depending on location) or next business day on-site7 response by a Dell Compellent-certified technician.

Parts delivery: Priority or next business day — Choose from priority (4/8/24-hour, depending on location) or next business day parts delivery. UPS ground shipping also available.

Data management and protection

Warranty: protection of hardware components.
Software Subscription includes perpetual software licensing for patches, updates and releases; only incur additional fees when adding new functionality or more capacity.

SupportAssist — Provides enhanced proactive support capabilities through:

Remote monitoring of system capacity and performance.
Automatic capacity threshold alerts.
Proactive calls from Copilot engineer to notify customer of possible issues.
SupportAssist only sends information about the health of your storage center back to Copilot, no customer data is ever transmitted or accessed.
Dell Compellent Services
Dell Compellent ServicesDell Services storage experts go beyond everyday administration to help you improve the performance and utilization of your Dell Compellent Storage Center system. The Dell Compellent Services portfolio provides system installation and implementation, as well as training. From disaster recovery planning to physical relocation, the Dell Services team is available to provide professional assistance when you need it.
Dell Compellent Deployment. Implement fast. Implement correctly. Implement once. No need for your IT staff to spend time researching correct processes and advanced configuration task sequences or purchasing the correct tools. We can reduce costs and relieve your IT department of the time-consuming implementation tasks that otherwise divert valuable IT resources from business-critical activities.

We bring two unmatched values to every implementation: deep knowledge of our products and broad experience deploying them. We do thousands of deployments every year across the globe, in just about every type of customer environment. From this vast experience we have acquired best practices that are integrated into our processes. As a result, we are very well aware of what undocumented activity must occur to avoid mistakes. In addition to doing it right the first time, we rarely encounter situations or issues for which we are not prepared. So, you can be confident your new Dell Compellent storage system is installed properly, configured per the design specifications and that your data is migrated safely from your legacy storage system without disrupting operations or end users.

Dell Compellent Copilot Optimize. Through the personal assistance of a dedicated support expert, we help you improve system utilization and performance with proactive reviews, health checks and evaluations, as well as advanced configuration and software support. Ensure a highly available and optimal performing storage area network (SAN) through ongoing best practice guidance while minimizing diagnostic troubleshooting and reducing service calls.
Training Services
Dell Education Services
Decrease downtime, improve utilization and ensure business continuity with storage training from Dell Education Services. With Compellent training from Dell, Compellent Administrators will learn to perform key administrative tasks for a Compellent Storage Center and effectively manage all tools associated with Storage Center operations.
Dell Storage Consulting Services
Storage consulting from Dell helps customers develop transformational strategies to meet their complex data management business needs. By engaging Dell, customers can optimize the way that data is stored, protected and managed, allowing customers to free up valuable resources, budget and time. Here are just some of the areas with which we can assist you:
The consolidation of storage infrastructure within one/multiple data centers
The optimization of storage infrastructure for virtual environments
The development and adoption of data protection processes or improvement of backup operational processes
The classification and categorization of data for storage tiering
The planning, design and implementation of an IT Disaster Recovery plan or simply Data Disaster Recovery