Highly reliable gigabit access switches with enhanced security, VPN tunneling, and traffic analysis capabilities; Huawei's intelligent iStack clustering technology enables smooth growth and scalability, while simplifying manageability and reducing O&M costs.
The S5700-EI's Easy Operation Toolkit provides time-saving, automated features for monitoring performance, dynamically allocating resources, and generating system messages and alarms to keep up with the demands of modern, server-based applications.
Use for highly resilient gigabit access in data center environments, or as an access or aggregation switch in next-generation enterprise networks.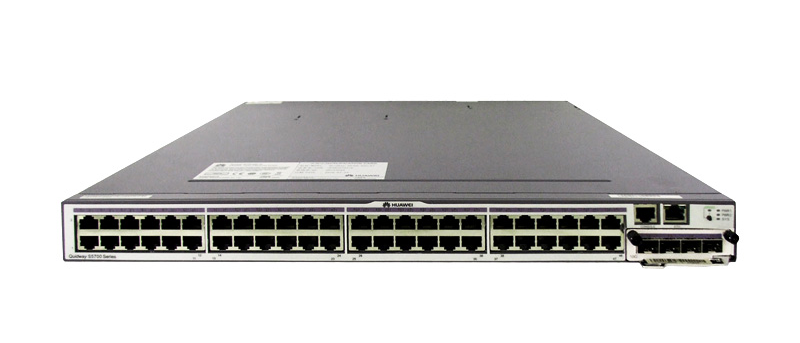 Features
---
Choose Huawei S5700 Series Switches to provide Gbit/s access for wired and wireless devices throughout the enterprise network
ŸHuawei iStack clustering technology virtualizes multiple switches into one, improving device reliability and simplifying configuration and management
Comprehensive VPN tunneling technology support, including Multi-VPN-instance Customer Edge (MCE) and MPLS L2/L3 VPN tunnels
Flexible ports: Gigabit downstream ports and 10 Gbit/s upstream service ports configurable for different port densities
Easy operation and maintenance: Zero-touch installation, configuration-free replacement, and support for batch-mode remote upgrades
Specifications
Specifications
S5700-28C-EI
S5700-28C-PWR-EI
S5700-28C-EI-24S
S5700-52C-EI
S5700-52C-PWR-EI
S5710-28C-EI
S5710-28C-PWR-EI-AC
S5710-52C-EI
S5710-52C-PWR-EI-AC
S5710-52C-PWR-EI
Fixed Ports

S5700-28C-EI/S5700-28C-PWR-EI: 24 x 10/100/1000 Base-T ports
S5700-28C-EI-24S: 24 x 100/1000 Base-X ports, two 10/100/1000 Base-T combo ports

48 x 10/100/1000 Base-T ports
24 x 10/100/1000 Base-T, two GE SFP combo ports, 4 x 10 GE SFP+ ports
48 x 10/100/1000 Base-T ports, 4 x 10 GE SFP+ ports
Extended Slots

The S5700C series switch provides two extended slots, one for an uplink sub-card and the other for a stack card.
The S5710C series switch provides two extended slots that support uplink sub-cards.

MAC Address Table

IEEE 802.1d compliance
MAC address learning and aging
Static, dynamic, and blackhole MAC address entries
Packet filtering based on source MAC addresses
32K MAC

Interoperability

VBST (compatible with PVST/PVST+/RPVST)
LNP (similar to DTP)
VCMP (similar to VTP)

Access Security
DHCP relay, DHCP server, DHCP snooping, DHCP security, and SAVI
Management and Maintenance

Intelligent stacking (iStack)
Virtual cable test
SNMP v1/v2c/v3
eSight and web-based NMS
Auto-config
HTTPS
System logs and multi-level alarms
Remote network monitoring (RMON)
NetStream (supported by the S5710-EI)
sFlow

VLAN

4K VLANS
Guest VLAN and voice VLAN
GVRP
MUX VLAN
Super VLAN
VLAN assignment based on MAC addresses, protocols, IP subnets, policies, and ports
1:1 and N:1 VLAN mapping

Ring Network Protection

STP, RSTP, and MSTP
RRPP ring topology and RRPP multi-instance
Smart Link tree topology and Smart Link multi-instance, providing millisecond-level protection switchover
Smart Ethernet Protection (SEP)
G.8032 Ethernet Ring Protection Switching (ERPS)
BPDU protection, root protection, and loop protection
BPDU tunnel

Reliability

Ethernet OAM (IEEE 802.3ah and 802.1ag)
ITU-Y.1731
Enhanced Trunk (E-Trunk)
BFD for OSPF, BFD for IS-IS, BFD for VRRP, and BFD for PIM
DLDP
LACP

IP Routing

Static route
Layer 3 dynamic route