High-performance, super-reliable 10 GE switches with comprehensive Quality of Service (QoS) and security capabilities, ideal for use as access switches in large-scale data centers and core switches in campus networks.
Advanced switching architecture and line-card buffering ensure smooth, sustained performance; Huawei's intelligent iStack virtualization technology enables both simplified management and easy expandability. Tight integration with Huawei's eSight NMS for fast and efficient provisioning, reconfiguring, and administration.
S6700 Series switches are available in 24-port and 48-port S6700-EI models, for resilient IPv4 and smooth migration to IPv6 networking.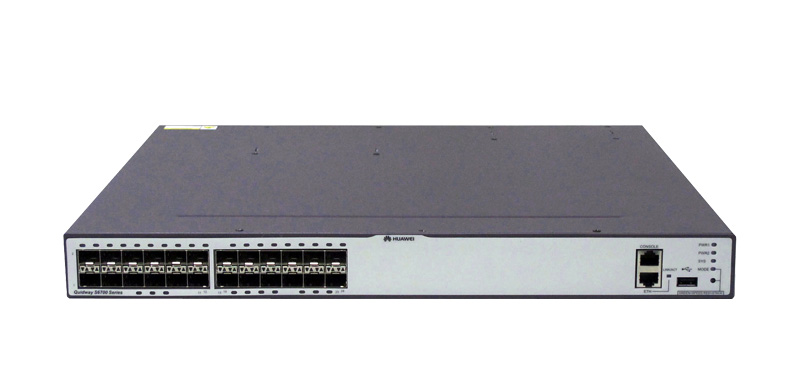 Features
---
Need rock-solid 10 GE switching? Choose Huawei's S6700 Series core and access switches for resilient performance and carrier-grade reliability
Model S6700-24-EI supports up to 24 x 10 GE ports, S6700-48-EI supports up to 48 x 10 GE line cards
Smart Ethernet Protection (SEP), ERPS, and VRRP support (G.8032) let you configure route redundancy for extra reliability
Configurable security measures include anti-DoS protection, DHCP snooping, and IP Source Guard (IPSG)
Enhanced security control and QoS capabilities; multiple VPN services
Specifications
Specifications
S6700-24-EI
S6700-48-EI
Port
24 x GE SFP/10 GE SFP+ ports
48 x GE SFP/10 GE SFP+ ports
IPv4 Routing

Static routing, RIPv1, RIPv2, ECMP, and URPF
OSPF, IS-IS, and BGP
VRRP
Policy-based routing
Routing policy

Multicast

Static Layer 2 multicast MAC address
MAC-based multicast forwarding
IGMP snooping and IGMP fast leave
Multicast VLAN
MLD snooping
IGMP proxy
Controllable multicast
Port-based multicast traffic statistics
IGMP v1/v2/v3
PIM-SM, PIM-DM, and PIM-SSM
MSDP

MPLS Features

MPLS L3VPN
MPLS L2VPN (VPWS/VPLS)
MPLS-TE
MPLS QoS

QoS/ACL

Rate limiting on packets sent and received by an interface
Packet redirection
Port-based traffic policing and two-rate, three-color CAR
Eight queues on each port
WRR, DRR, SP, WRR+SP, and DRR+SP queue scheduling algorithms
Re-marking of the 802.1p priority and DSCP priority
Packet filtering at Layer 2 to Layer 4, filtering out invalid frames based on the source MAC address, destination MAC address, source IP address, destination IP address, port number, protocol type, and VLAN ID
Rate limiting in each queue and traffic shaping on ports

Security

DoS attack defense, ARP attack defense, and ICMP attack defense
802.1x authentication and limit on the number of users on an interface
AAA authentication, RADIUS authentication, and TACACS authentication
SSH v2.0
Hypertext Transfer Protocol Secure (HTTPS)
CPU defense
Blacklist and whitelist

Interoperability

VBST (Compatible with PVST/PVST+/RPVST)
LNP (Similar to DTP)
VCMP (Similar to VTP)