Protect Across the Entire Attack Continuum
---
Protect against advanced threats while reducing complexity and cost. The industry's first adaptive, threat-focused next-generation firewall (NGFW), Cisco ASA with FirePOWER Services, delivers integrated threat defense across the entire attack continuum. It combines proven ASA firewall with advanced malware protection in a single device.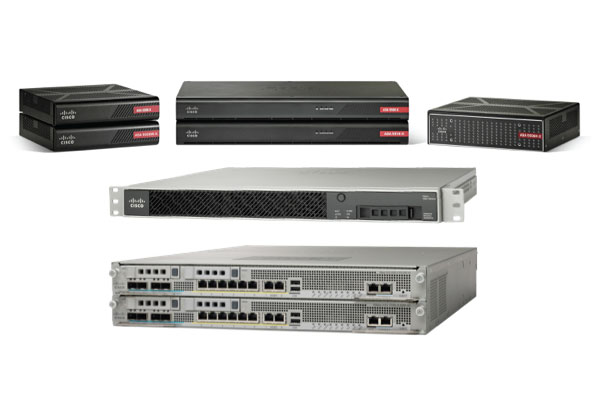 Features and Capabilities
---
Superior Multilayered Threat Protection
Cisco ASA with FirePOWER Services brings distinctive, threat-focused, next-generation security services to the ASA 5500-X Series and ASA 5585-X firewall products. It provides comprehensive protection from known and advanced threats, including protection against targeted and persistent malware attacks.
Cisco ASA with FirePOWER Services provides several advanced capabilities, listed below.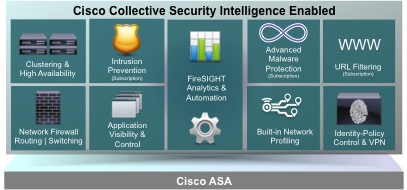 Industry-Leading Network Visibility
Feature highlights include:
World's most deployed ASA stateful firewall with advanced clustering
Cisco AnyConnect Secure Mobility Solution more securely extends corporate network access beyond corporate laptops to personal mobile devices, regardless of physical location
Granular Application Visibility and Control to support over 3000 application-layer and risk-based controls
Cisco FirePOWER Next-Generation IPS, which provide threat prevention and contextual awareness
Filters on hundreds of millions of URLs in over 80 categories
Discovery and protection against advanced malware and threats
You can centrally manage Cisco ASA with FirePOWER Services with the Cisco FireSIGHT Management Center. Gain comprehensive visibility into users, mobile devices, client-side apps, virtual machine (VM)-to-VM communications, vulnerabilities, threats, and URLs. Also, gain control over activity within the network and across next-generation firewall (NGFW) deployments.
Cisco FireSIGHT Management Center provides holistic, actionable indications of compromise (IoCs) that correlate detailed network and endpoint event information. It gives you further visibility into malware infections. And it also provides content awareness with malware file trajectory, which aids infection scoping and root-cause determination to speed time to remediation.
Reduced Costs and Complexity
Cisco ASA with FirePOWER Services' integrated approach to threat defense reduces capital and operating costs as well as administrative complexity. It smoothly integrates with your existing IT environment, work stream, and network fabric. It is highly scalable, performs at up to multigigabit speeds, and provides consistent and robust security across branch, Internet edge, and data center physical and virtual environments.
With Cisco FireSIGHT Management Center, your administrators can streamline operations to correlate threats. They can also assess their impact, automatically tune security policy, easily attribute user identities to security events, and help to speed remediation against changing threat conditions.
For small-scale, SMB deployments, the Cisco Adaptive Security Device Manager (ASDM) V 7.3.X is available to provide on-device, access control and advanced threat defense management. ASDM V 7.3.X provides an enhanced user interface that provides quick views on trends and the ability to drill-down for further analysis.
Wide Range of Sizes and Form Factors
Protect networks of all sizes with multiscale performance and a wide range of form factors. Cisco ASA with FirePOWER Services are available as:
Standalone appliances tailor-made for small and midsize businesses
Ruggedized appliances designed for extended temperature range operation in industrial or critical infrastructure environments
Midsize appliances for businesses improving security at the Internet edge
High-performance and throughput appliances for demanding enterprise data centers
Accelerate your move to new Cisco FirePOWER Services with Security Migration Services. You can migrate quickly and with minimal disruption, and you'll get expert technical support to keep your network and security available and operating at peak performance.
| Product | ASA 5515-X | ASA 5525-X | ASA 5545-X | ASA 5555-X |
| --- | --- | --- | --- | --- |
| Maximum application control (AVC) throughput | 500 Mbps | 1100 Mbps | 1500 Mbps | 1750 Mbps |
| Maximum AVC and IPS throughput | 250 Mbps | 650 Mbps | 1000 Mbps | 1250 Mbps |
| Maximum concurrent sessions | 250,000 | 500,000 | 750,000 | 1,000,000 |
| Maximum new connections per second | 15,000 | 20,000 | 30,000 | 50,000 |
| AVC or IPS sizing throughput [440-byte HTTP]2 | 150 Mbps | 375 Mbps | 575 Mbps | 725 Mbps |