Video Conferencing Server Software: Works via Internet, LAN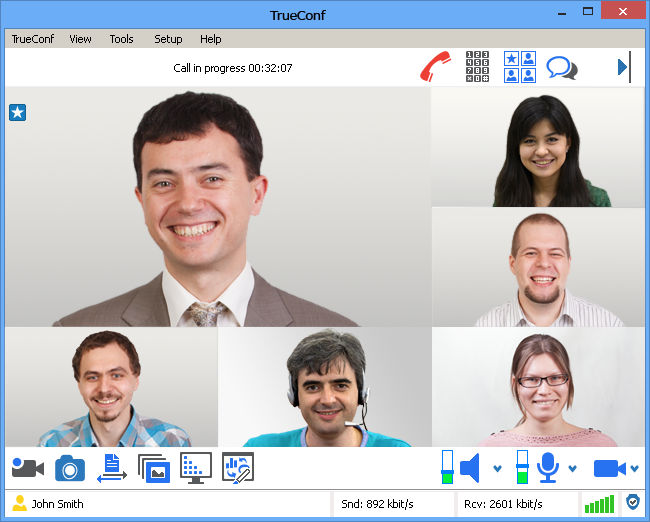 VP8 SVC Unified Communications Platform
Works on LAN/VPN networks and over the Internet
UltraHD 4K group video conferences with up to 250 users
Secured with SSL and AES-256 encryption
LDAP and H.323/SIP integration




TrueConf Server is a powerful, high-quality and highly secured video conferencing software server. It is specially designed to work with up to 250 participants in a multipoint conference over LAN or VPN networks. TrueConf Server requires no hardware and includes client applications for all popular platforms, making it an easy-to-set up, unified communications solution.

TrueConf Server utilizes SVC technology based on the VP8 video codec, which guarantees the best possible video quality on every device and channel. TrueConf systems have built-in AEC (acoustic echo cancellation), AGC (automatic gain control) and noise cancellation algorithms, which provides great wide-band audio quality for all participants.

More Info

Administrator Guide




Compatible Endpoints
---
Client applications are generated right after the video conferencing server is installed and configured. The application includes all the settings necessary for connection with TrueConf Server software by default.
For computers
Any PC or Apple computer with the TrueConf client application installed can be connected to TrueConf Server.
For mobile devices
Use TrueConf mobile applications to keep in touch with your colleagues and make video calls while on the go.
TrueConf Server Network Scheme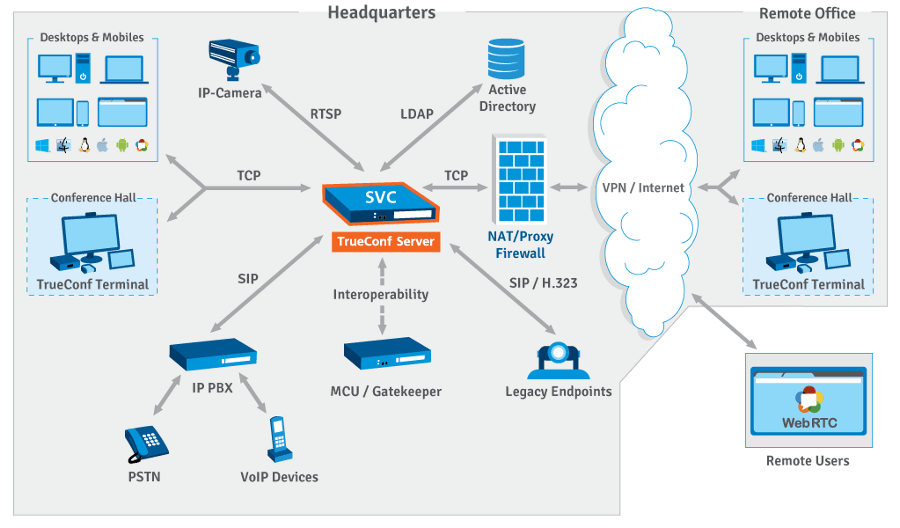 TrueConf Server Advantages
---
TrueConf products can provide companies or organizations of any size with a huge range of benefits, including:
An easy-to-use, fully functional Unified Communications platform.
AReal SVC-based software solution: no need for transcoding or MCU.
AA secure solution which helps to protect corporate network security, and which works through a single TCP port.
AHighly secure, with SSL and AES-256 encryption.
ANo direct IPs required for endpoints: easily passes Firewall, NAT and Proxy.
ANo expensive equipment or installation costs required.
ACompatible with third-party H.323/SIP equipment.
AAbility to record video on the server side.
ASVC provides constant quality on variable network connections.
AWebRTC support allows remote participant to easily join conferences.
AWeb-based manager application for remote server management.
ABuilt-in scheduler will not let you miss important meetings.
AFully integrates with existing VoIP and videoconferencing equipment.
AEasily scales vertically and horizontally due to TrueConf Server's large capacity and federation support.
AClient apps available for all platforms with multi-point videoconferencing.
ASuits conferencing rooms perfectly, and can be further enhanced TrueConf Terminal.
AUltraHD 4K support means you get great images on larger screens.
ARTSP support allows IP cameras to stream into video conferences
AFlexible and affordable "per user" licensing.
ATry before you buy: Free version for 1 year.
ALocalized to English, German, French, Dutch, Spanish, Portuguese, Polish, Czech, Vietnamese, Russian and Ukrainian languages.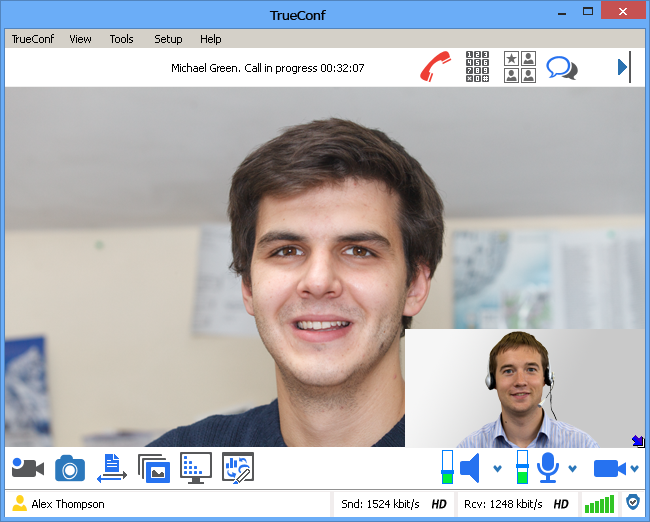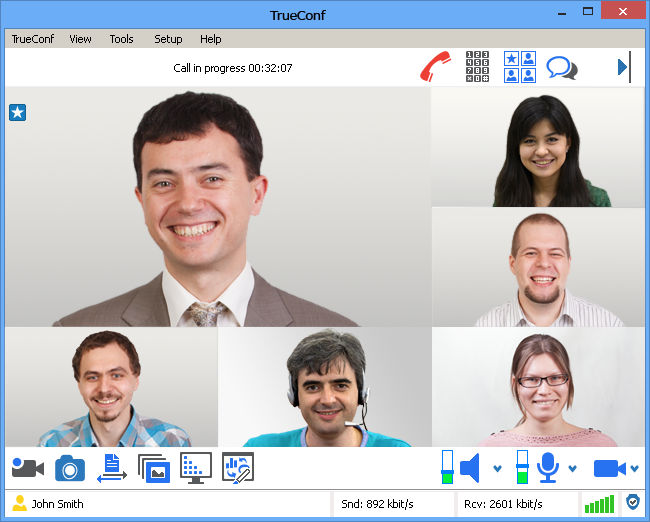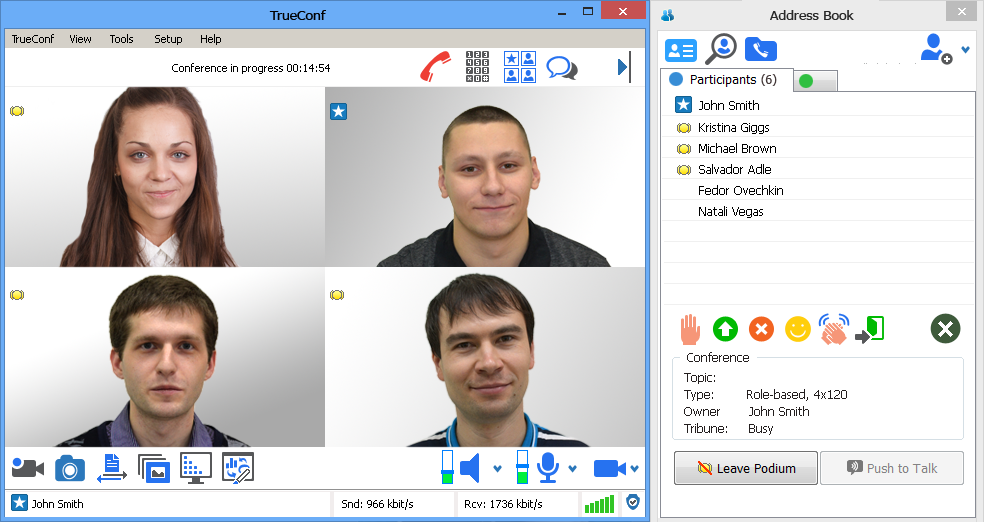 Video Call FullHD
Group video conference
Virtual meeting
TrueConf Client is a client application for TrueConf Server that is configured with all the necessary settings for connection to the server after the server is up and running.
Functionality
---
Slide show: helps you to easily broadcast images and PowerPoint presentations to every participant in your conference.
Screen sharing: enables you to transmit a live video broadcast of your desktop screen to your participants.
Recording video conferences: allows you to record audio and video from one of all broadcasting participants during a video conference in TrueConf client applications or on the server.
Text chat via instant messaging.
PSTN support: allows TrueConf clients to call colleagues on landline or mobile phones, as well as invite them into group phone conferences.
Supporting SIP/H.323 protocol: allows users to connect third-party endpoints and VoIP equipment, including PBX, to the video conferencing server.
WebRTC support allows to join a server-based conference right from the web-browser. This is especially helpful for the users who do not need feedback during a conference.
BYOD (Bring Your Own Device): an approach which enables you to turn any mobile device into a video conferencing endpoint.