Next-Generation Anti-Threat Firewall
---
High-performance security with advanced, integrated threat intelligence, delivered on the industry's most scalable and resilient platform. SRX Series gateways set new benchmarks with 100GbE interfaces and feature Express Path technology, which enables up to 1 Tbps performance for the data center.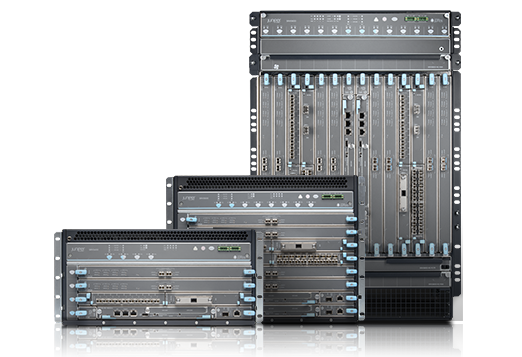 Security for any size data center and enterprise edge
---
Offers a broad range of options—from all-in-one, integrated physical and virtual security networking devices to highly scalable, chassis-based data center solutions—that can defend enterprise data centers and service providers of any size.
Comprehensive threat protection
---
Provides advanced, next-generation defense, with a comprehensive suite of layered security services. All SRX Series gateways are built for resiliency, scalability, and availability to secure your data center or enterprise edge against the broadest spectrum of threats.
Maximum performance and scale
---
Supports fast, secure, and highly available data center and enterprise edge operations, with unmatched performance and scalability, massive session volumes, and flexible large-scale connectivity, with ultra-low latency performance of up to 1 Tbps.
Carrier-grade reliability
---
Delivers continuous uptime through in-service hardware and software upgrades, redundant components, and carrier-class hardware for resiliency. The high-end SRX Series gateways deliver six-nines reliability for nonstop business continuity and application availability.
Superior security value
---
Provides outstanding value for high-speed, highly effective security services—even with multiple services enabled. The system's flexible, modular approach protects your investment by scaling for future network growth.
| | SRX240 | SRX550 | SRX650 | SRX1400 |
| --- | --- | --- | --- | --- |
| Junos OS Software version tested | Junos OS 11.4R5 | Junos OS 12.1 | Junos OS 11.4R5 | Junos OS 12.1X44 |
| Firewall performance (max) | 1.8 Gbps | 5.5 Gbps | 7 Gbps | 10 Gbps |
| IPS performance (NSS 4.2.1) | 230 Mbps | 800 Mbps | 1 Gbps | 3 Gbps |
| AES256+SHA-1 / 3DES+SHA-1 VPN performance | 300 Mbps | 1.0 Gbps | 1.5 Gbps | 4 Gbps |
| Maximum concurrent sessions | 256,000 | 375,000 | 512,000 | 1.5 million |
| New sessions/second (sustained, TCP, 3-way) | 8,500 | 27,000 | 35,000 | 70,000 |
| Maximum security policies | 4,096 | 7,256 | 8,192 | 40,000 |
| Maximum security intelligence data feed entries in firewall rules database | 600,000 IPs and 50,000 URLs | 600,000 IPs and 50,000 URLs | 600,000 IPs and 50,000 URLs | Up to 1 million IP addresses; separate allocation (capacity) for URLs |