"PRTG: Finally There Is a Network Monitoring Software
That Is Powerful And Easy To Use!"
Network monitoring for professionals
Installed in 2 minutes
Automatically discovers your network
Monitors your network 24/7
Alerts you before emergencies occur
Used by 150,000 administrators worldwide
PRTG fits into any budget and grows with your needs. Try PRTG now and see how it can make your network more reliable and your job easier.
Everything you need is contained in one simple installer, no additional downloads are required.
We make it simple for you, now and later!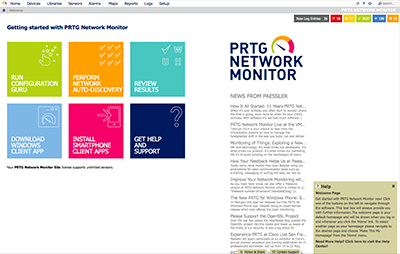 | | |
| --- | --- |
| Download | Network Monitoring Software for Windows - Version 15.3.18 (August 12, 2015) |
| Languages | English, German, Spanish, French, Portuguese, Dutch, Czech, Japanese, and Simplified Chinese |
| Pricing | Free for up to 100 sensors |
| Unified Monitoring | Network devices, bandwidth, servers, applications, virtual environments, remote systems, IoT, and many more |
Trusted Every Day by 150,000 Admins Around the Globe
More than 150,000 administrators rely on PRTG Network Monitor every day to monitor their LANs, WANs, servers, websites, appliances, URLs, and more
Network problems create business emergencies. When the network goes down, employees can't read emails. Customers can't purchase the product. Work stops. Network monitoring helps you keep your business healthy:
Avoid expensive outages
Address bottlenecks before they cause problems
Reduce costs by buying only the hardware you need
Stop wasting time putting out fires. Start building the future foundations of your business. You'll be less stressed and your colleagues will consider you a hero.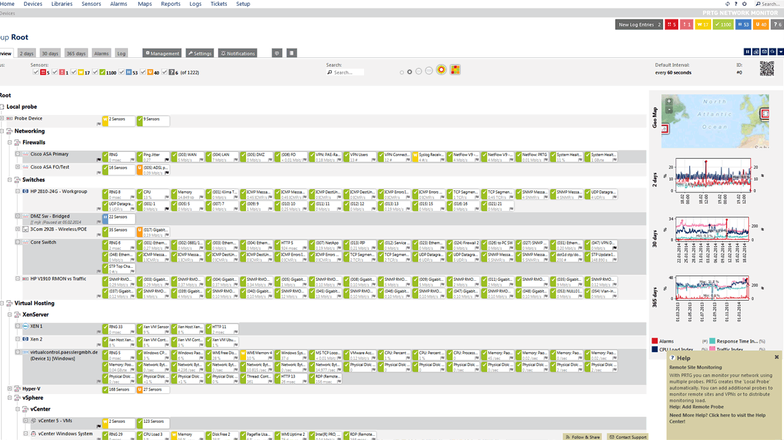 PRTG's web browser based UI
---
Bandwidth Monitoring: Find Out Who Is Using Your Network, For What
PRTG Network Monitor runs on a Windows machine within your network, collecting various statistics from the machines, software, and devices which you designate. (It can also autodiscover them, helping you map out your network.) It also retains the data so you can see historical performance, helping you react to changes.
PRTG comes with an easy-to-use web interface with point-and-click configuration. You can easily share data from it with non-technical colleagues and customers, including via live graphs and custom reports. This will let you plan for network expansion, see what applications are using most of your connection, and make sure that no one is hogging the entire network just to torrent videos.
PRTG can collect data for almost anything of interest on your network. It supports multiple protocols for collecting this data:
SNMP and WMI
Packet Sniffing
NetFlow, IPFIX, jFlow, and sFlow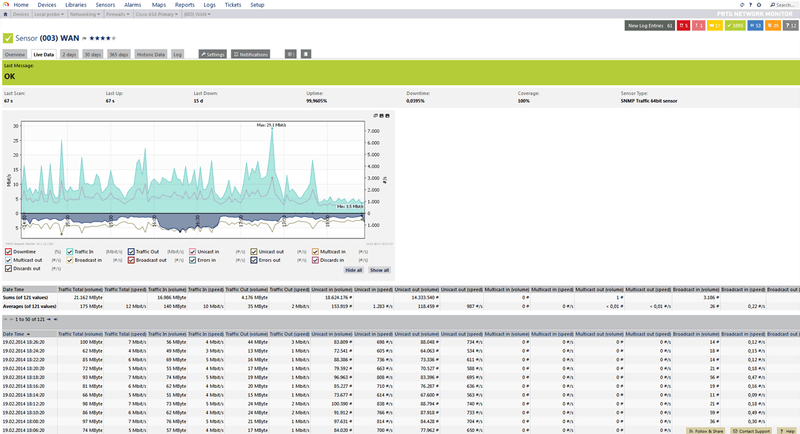 Firewall traffic monitored by PRTG
---

Monitoring results of a Ping sensor (shows the Ping times of a cloud server measured from 5 locations around the world)
Knowing When Things Break Is Good. Knowing Before They Break Is Even Better.
PRTG Network Monitor includes more than 200 sensor types for all common network services, including HTTP, SMTP/POP3 (email), FTP, etc. But what is a sensor? One sensor within PRTG is one aspect that you monitor on a device. For example a specific URL, the traffic of a network connection, a port of a switch or the CPU load on a machine. Please have a look at the list of supported sensor types. Every entry in this list counts as one sensor. Normally, we are calculating with between 5 and 10 sensors per device, but of course that depends on what exactly you want to monitor.
We can alert you to outages before your users even notice them, including via email, SMS, or pager. Even better, after you use PRTG to track request times and uptime for a few months, you can optimize your network such that the pager never rings again. PRTG can print reports showing how good a job you are doing. (Tell your boss that your 100% uptime last quarter deserves a raise. We'll even print you the report to do it with.)
---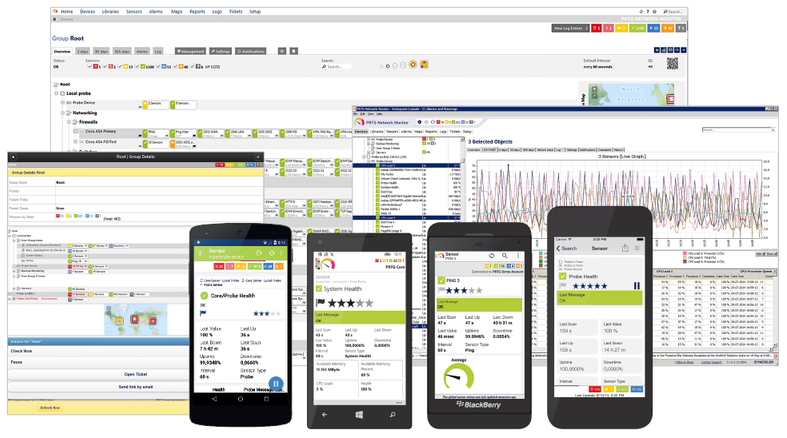 We Speak Your Language
PRTG is available in English, German, Spanish, French, Portuguese, Dutch, Japanese, Czech, and Simplified Chinese. You can access PRTG from a Windows desktop application or through a web-browser running on any platform. If you want to check on your network from the road, you can use our native iPhone/iPad apps or Android apps on your phone or tablet, or the apps for Windows Phone and BlackBerry.
---
Fair Licensing. Public Pricing. No Surprises or Hidden Costs.
Don't you get disgusted by enterprise software companies which make you talk to a salesman to hear what the price is? Or ones which quote one low price and then tack on high extra charges as soon as you want to do anything interesting? We hate that, too, so PRTG has a simple licensing model. You pay one price for this version of the software, based on how many sensors you need (i.e. how many things you want to track on your network), regardless of technology used. It is installed software: there is no recurring monthly charge. All licenses include all sensor types, an unlimited number of remote probes and Failover clustering (1 master node and 1 failover node).

We have a maintenance plan available so that you can get free updates to the next version of the software and get support: you'll get free updates/support for one year and can purchase additional years of updates/support if you want to.

Not sure how many sensors you'll need? We offer different licensing options, one of them will fit your needs. As a rough guideline, small business networks usually fit in our 500 sensor package. Most large businesses can fit in the 2500 sensor package.

Select which package you want here: PRTG price list at the Paessler Online Shop.

---
The Commitment To Quality You Expect From German Engineering
We're a small but established software company in Germany, and PRTG has been our main product since 1997. If you ever need support, you'll deal with our in-house engineers and networking experts. Your business is too important to be fobbed off on a call center that will tell you to try rebooting the PC. We answer almost all emails within 24 hours on business days, and have multiple staff members who are native or near-native in most languages PRTG supports. We're proud of the support we offer, but we're even more proud that most of our customers never have to speak to us at all, because—unlike some software you may have suffered through—our product actually works.

---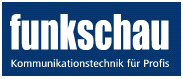 Trusted By Experts, Including 150,000 Sysadmins and the Press, Too
In recent months and years PRTG Network Monitor was put under the microscope quite a few times. Both, national as well as international testers had a close look at the innovations that came with the latest versions and shared their insights.
The lesson is clear: PRTG stands out due to its excellent usability, a very good price-performance ratio and continually added new features and functions.