Master the science of scanning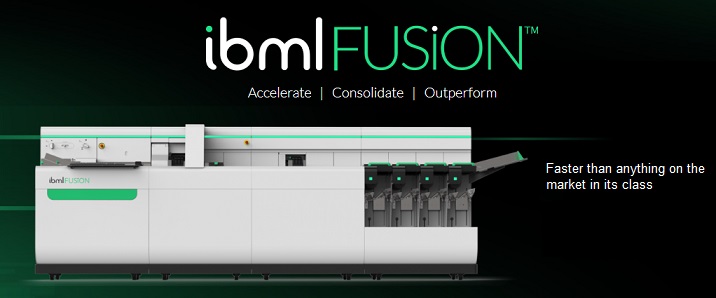 What are the obstacles preventing you from reaching true digital transformation?
Learn how intelligent ultra-high-volume scanning helps you onboard paper documents to digital processes and overcome common mailroom challenges in our brochure, "Harness the Power of Fusion".


Intelligence Unleashed
Infuse every process with intelligence. With the ibml Fusion, every part of the capture process is done smarter - from feeding to exception handling to automated sorting. With all of this added intellect, employees are now free to focus on other important tasks.
Unprecedented Speed
Open up the throttle on your mailroom. Experience unmatched speeds and astonishing intermixed document handling capabilities with the only ultra-high-volume scanner designed to handle all your document intensive applications like customer onboarding, loan processing, accounts payable, accounts receivables, lockbox operations, contract management, exam processing, tax processing, balloting and more.


Consolidate. Accelerate. Outperform.
Eliminate the fragments and streamline all of your document processes into one simplified infrastructure to jet actionable data across your business. When you consolidate, you save big on operational costs such as maintenance, labor, and real estate.
Customizable. Scalable. Unstoppable.
Transform and adapt your scanner to match your evolving business needs. With the ability to tailor everything – software, sorting, speed, and more – to your specific needs, there will be nothing left standing between you and groundbreaking success.